July 13th, 2017
How Long Does Invisalign Take To Straighten Teeth?
The time it will take to straighten your teeth with Invisalign is dependent on each individual case, but adult Invisalign treatment averages about 12 months. Your Phoenix Smyl Co orthodontist will develop a treatment plan after your initial examination based on your individual needs.
We understand that, once you decide to get orthodontic treatment, you will be anxious to show off your new smile as quickly as possible. Our orthodontists are experienced experts at giving you the beautiful, confident smile you are looking for in the least amount of time possible.
How Does Invisalign Work?
Invisalign works by molding clear plastic trays to your teeth and creating several sets of trays that change incrementally until they have shifted your teeth into the new, desired positions. Our downtown Phoenix patients range from early teens to adults and they all love the almost invisible look of their Invisalign aligners. The custom aligners fit snugly over your teeth and must be worn 22 hours each day for maximum tooth movement. The aligners are changed to a new set every two weeks.
What Are The Advantages of Invisalign Over Braces?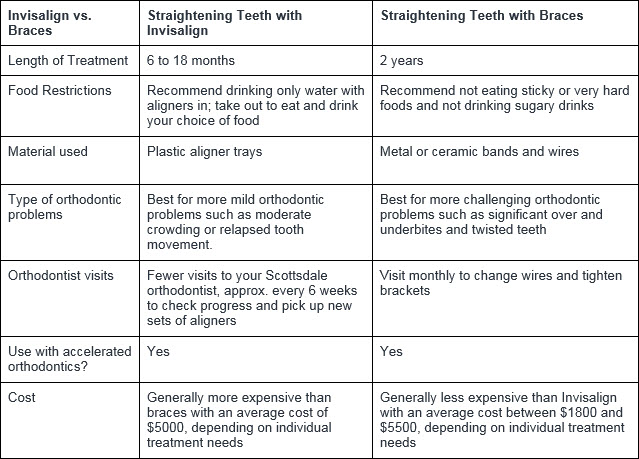 Want To Know More About Invisalign? Call The Smyl Co. Today!
When you are looking for an orthodontist, you want to search for experienced professionals who were successful in their education and are active in their professional organizations and communities. When you meet the doctors at The Smyl Co, you'll find they are exactly that. See if Invisalign is right for you by calling The Smyl Co at (602) 362-2444. Our professionals will examine your teeth and get you started on the best treatment plan for creating a lasting shining smile.